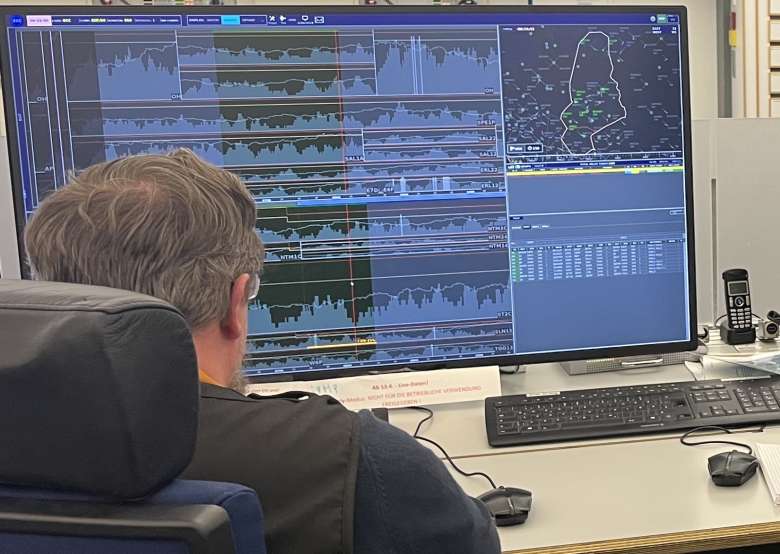 Karlsruhe / Maastricht – EUROCONTROL, a pan-European, civil-military organisation dedicated to supporting European aviation and DFS Deutsche Flugsicherung (DFS), the German air navigation service provider, have taken a further step that will support seamless and efficient air traffic services just in time for the rise in summer air traffic and the recovery to pre-pandemic levels. The integrated flow management position (iFMP) developed and used at the EUROCONTROL Maastricht Upper Area Control Centre (MUAC) is now operational at the Karlsruhe Upper Area Control Centre (KUAC) of DFS.

The tool represents one of several operational milestones of a far-reaching cooperation agreement between EUROCONTROL and DFS, named Maastricht and Karlsruhe Networks (MAKAN). MAKAN aims to further harmonise air navigation services for the upper airspace in the heart of Europe through technical and operational convergence. It is an essential component for a uniform air traffic management in the Benelux and Germany which represents one the most complex airspaces in the world, with some of the largest European airports. 

"By using iFMP as an integrated flow and capacity management tool, both our facilities will be making the most out of their scarce resources - personnel and airspace. DFS and MUAC both share a common vision of excellence in air traffic management and are keen on developing innovative cross-border solutions. I am delighted to see the first concrete development towards our strategic objectives," said John Santurbano, Director of MUAC.

"In our cooperation with MUAC, we are pointing the way forward in Europe with this latest step. We are demonstrating that we can quickly and pragmatically implement and deploy ideas and developments within the framework of MAKAN and thus ensure further harmonised and efficient air traffic services," said Arndt Schoenemann, DFS CEO.
At Maastricht, the iFMP system has served as the main decision-making technology for air traffic flow and capacity management (ATFCM) since 2016, bringing significant benefits to airspace users. The tool offers traffic prediction, sector configuration, complexity and airspace management, and enables full digital data exchange between air navigation service providers (ANSPs) and the Network Manager. NM has also actively supported the deployment of iFMP at KUAC by providing data via its B2B infrastructure. At Karlsruhe, iFMP will be primarily used to balance the sector workload for air traffic controllers. 

MAKAN will ultimately deliver a common system platform, based on a virtual infrastructure which provides services and software solutions for both facilities (MUAC and KUAC), and which can also be potentially made available to third parties in the long term.

Sharing technology and expertise for leading-edge air traffic flow and capacity management as well as airspace management will enable improved flight profiles and traffic handling. 

The optimisation of the joint airspace boundaries between the two upper area control centres completed early 2022 and the ongoing cross-border free route airspace MUAC – KUAC project, due to finish at the end 2023, also serve this purpose.

EUROCONTROL and DFS will work on further developments, providing a solid basis for better air traffic management in the airspaces of both UACs in the years to come.


For more information please contact:

Csilla Szabo, muac.press@eurocontrol.int
Nanda Geelvink, Arved Saur, presse@dfs.de, phone: 0049 6103 707 4164 or 0049 6103 707 4184 


Downloads

About MUAC
Operated by EUROCONTROL on behalf of four States, EUROCONTROL's Maastricht Upper Area Control Centre (MUAC) is the only multinational air navigation service provider in Europe. It provides civil and military cross-border air traffic control in the upper airspace of Belgium, Luxembourg, the Netherlands and north-west Germany (from 7.5 km or 24,500 feet). Some 1.5 million flights pass through MUAC's area of responsibility each year, making it the third busiest air traffic control facility in Europe in terms of traffic volume. During the summer, peak days see over 5,000 flights. MUAC's international area of responsibility is a perfect example of the simplification and harmonisation of airspace in Europe and is fully in line with the objectives of the Single European Sky. As a tangible example of a successful multinational project and a working demonstration of a functional airspace block, MUAC offers considerable benefits to aircraft operators, its Member States, the European network and aviation as a whole. 
More information on the website www.eurocontrol.int/muac


About DFS Deutsche Flugsicherung
DFS Deutsche Flugsicherung GmbH, the German air navigation service provider, is a State-owned company under private law with 5,600 employees as at 31 December 2022. DFS ensures the safe and punctual flow of air traffic over Germany. Around 2,200 air traffic controllers guide more than three million flights through German airspace in peak years, up to 10,000 every day. The company operates control centres in Bremen, Karlsruhe, Langen and Munich as well as control towers at the 15 designated international airports in Germany. The subsidiary, DFS Aviation Services GmbH, markets and sells products and services related to air navigation services, and provides air traffic control at nine regional airports in Germany and at Edinburgh Airport in the United Kingdom. DFS is working on the integration of drones into air traffic and has set up a joint venture, Droniq GmbH, with Deutsche Telekom. Other subsidiaries include R. Eisenschmidt GmbH, which markets publications and products for general aviation, and Kaufbeuren ATM Training GmbH (KAT), which provides training for military air traffic services personnel. The joint venture FCS Flight Calibration Services GmbH offers flight inspection services.